Groundhog notwithstanding, a wild six more weeks of winter appears likely with more temperature swings and lots of precipitation.
Groundhog Day. The day in early February when we all go wild trying to figure out if there will be 6 more weeks of winter, based on the shadow, or lack thereof, of a furry beast awakened abruptly from his winter slumber.
The tradition apparently stems from a Pennsylvania Dutch tradition and has been elevated to folklore status by the town of Punxsatawney, Pennsylvania. The tradition was brought from German-speaking areas where the badger was considered to be the forecasting animal, although I have yet to see his American Meteorological Society Seal of Approval. This tradition was that clear weather on Candlemas forebodes a prolonged winter.
The groundhogs Punxsatawney Phil, and Buckeye Chuck, and any other ground hog in the east had better hope for clear weather and a shadow, because this year considerably more winter appears very likely.
Over the past week, a lobe of the Polar Vortex came south into the Great Lakes, bringing all time record cold to some areas, and a deep freeze to many. This is being followed by a dramatic warm up which will feel like spring…for a few days.
Sometimes, established weather patterns ultimately break, ending a spell of cold weather. However, in this case the dramatic warm up is yet another wave in a highly progressive pattern which has featured dramatic warm ups and cool downs all winter.
Remember, November was very cold this year with a big snow storm in the south and east. December turned milder after a cold start, and while January turned extremely cold, it actually started out quite warm and ended up averaging ABOVE NORMAL at my Cheviot OH 3W location! Despite National Weather Service projections for a dry winter in the Ohio valley, winter precipitation is running above normal, and snowfall is much above normal.
The current dramatic warm up is kind of an eddy between two lobes of cold. One is rapidly receding to the northeast while another takes hold in the west. This weekend will feature major storminess in California and a large cool down in the west as warmth surges northward in the east. However, it appears the progressive nature of this winter pattern will continue, with a catch.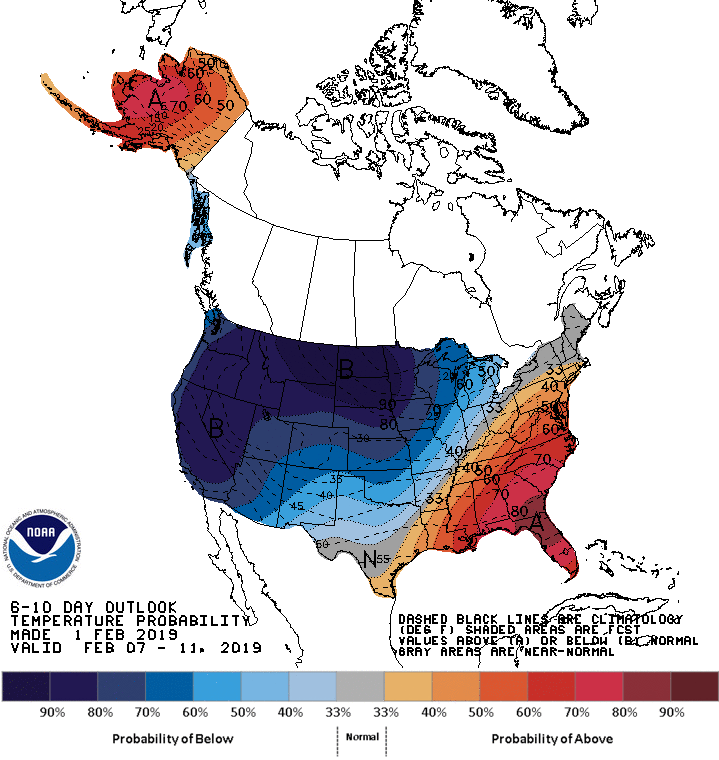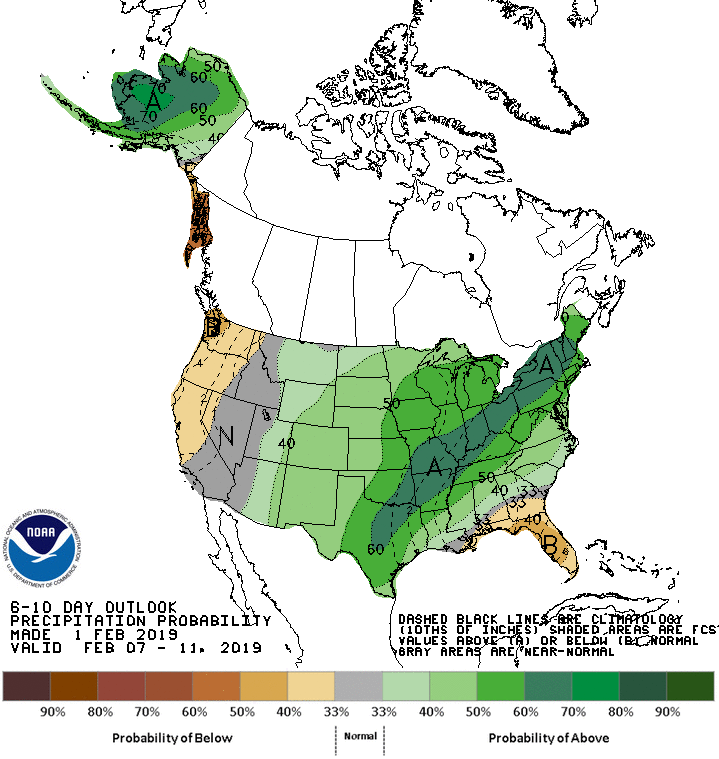 The 6-10 day temperature and precipitation outlooks show a very wet pattern for the Ohio valley and building cold to the north and west. The cold pushes further east over the 8-14 day period.
As this next lobe of cold grows in the west and central US, the warmth will be stingy in the southeast. A storm track will form between the cold and warm areas, and along that storm track will be quite a lot of precipitation, some of it increasingly frozen as the cold ultimately tries to push its way in.
The overall progressive pattern with cold and storminess does not look like it will break for real until sometime in March. Therefore, we may or may not have a full 6 more weeks of winter but winter is far from over, at least for several more weeks.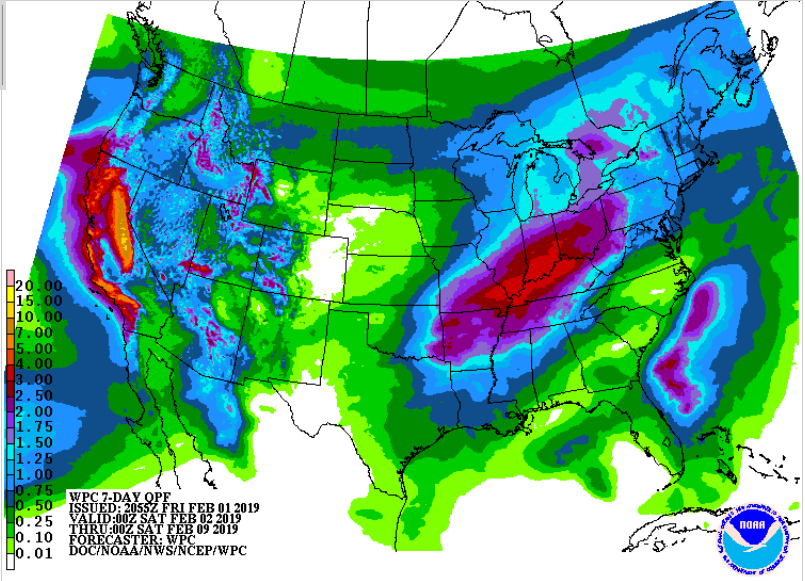 7 day precipitation outlook shows 3 inches of liquid on already saturated Ohio valley soil and up to 15 inches of liquid in the Sierra Nevada mountains. That could be 15 feet of snow or more!